How to use and check American Express Gift Cards?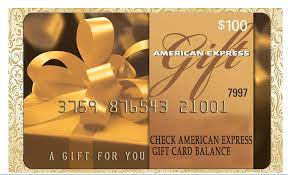 How to use and check American Express gift cards?
Have you always pondered on how to check and make use of an American Express gift card? This blog post offers the best solutions for you!
Today, there are many various kinds of gift cards accessible. Different brands promote and offer flagship gift card services to their customer base. There are different types of GiftCards, including Sephora and eBay Gift Cards. However. our focus here is on the American Express gift card.
What is an American Express Gift Card?
American Express Gift Cards are prepaid cards that have a set amount of money put onto them (USD). In the US, American Express Gift Cards are commonly accepted at a large number of eateries, markets, and retail stores, including Walmart and ShopRite. Also, note that we have these American GiftCards in different denominations such as $25, $50, $100, $200, and American Express gift cards for $500, respectively.

Simply checking your balance on an American Express gift card is important in order to know the value or possibly the expiring date of the card.  The balance on American Express on your gift card will already be paid for by the purchaser when you get it. Typically, you will receive the gift card along with usage instructions and a list of the card's available balance.

Meanwhile, If your American Express gift card has already been used in part or was given to you as a gift, you might want to check the remaining balance.

There are several ways by which you can use and check your American Express GiftCards which are:
Firstly, to use an American Express gift card site, you can do this by following these different methods;
Check the balance of your gift card. You can do this online at www.americanexpress.com/gift or by calling the number on the back of the card.
Find a merchant that accepts American Express gift cards. This can include online retailers as well as brick-and-mortar stores.
When making a purchase, inform the cashier that you will be using a gift card for payment. If you are shopping online, enter the gift card number and security code during the checkout process.
If the purchase amount exceeds the balance on the gift card, you will need to provide another form of payment for the remaining balance.
Make a purchase, and the amount will be deducted from your available balance, together with any relevant taxes.
Some merchants may include a predicted gratuity when determining the Available Balance when accepting gift cards as payment for a transaction. If the transaction is approved, the Available Balance will be reduced by the Purchase Amount plus the Projected Gratuity.
Any disparities between the amount withdrawn at the time the merchant checks the balance and the precise transaction cost will be deducted from the remaining value of the gift card a few days later, when the merchant reports the real transaction.
Finally, you can check the balance of your American Express gift cardwhen you visit their site www.americanexpress.com/gift and enter the gift card number and security code. It is important to check the balance regularly to avoid any unexpected declines in payment during a purchase.
Conclusion
Unless there are restrictions on participating places that are noted on the back of the card, American Express® Gift Cards, Business Gift Cards, and American Express® eGift Cards and Business eGift Cards may be used almost anywhere in the United States that accepts American Express Cards. These goods cannot be used for recurring billing or at ATMs. Further restrictions can be present. Details are provided in full in the Cardholder Agreements.